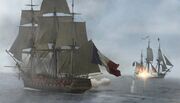 The Acheron is a french privateer originally built in the United States.
She closly resembles the USS Constitution. She has 44 guns, as well as a stronger-than-average hull, making her heavy, but fast.
In 1805, the ship was sent to the South Seas to harass the British whaling fleet. The Admiralty dispatched the HMS Surprise, Captain Jack Aubrey commanding, to intercept the Acheron, sink her, or take her a prize.
The vessels' only apperance is in the motion picture Master and Commander The Far Side of the World, where fills roughly the same role as the American frigate USS Norfolk in the novel The Far Side of the World.