William Mowett is a naval officer as well as an amateur poet of indifferent talent.
In the 2003 film, he was played by Edward Woodall.
Mr Mowett was aboard HMS Sophie and served under Captain Jack Aubrey as a masters mate (senior Midshipman). He is one of Aubrey's well known officers, although perhaps not as close to him as  
[[HMS Surprise|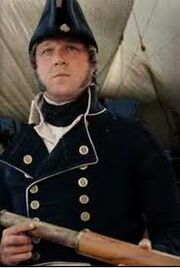 ]]
Tom Pullings
or
William Babbington
. Aubrey hoped to bring Mowett, by then (1812) promoted to
lieutenant
, on to the quarterdeck of HMS Leopard, but his plan to pick up Mowett at the Cape of Good Hope was thwarted when he was forced to bypass the southern coast of Africa.
Following his repatriation to England, Mowett was appointed as second lieutenant in Jack Aubrey's HMS Worcester and subsequently transferred with Aubrey to the HMS Surprise. Following Thomas Pullings's promotion to commander after the Surprise's battle with the Turkish Torgud and Kitabi, Mowett succeeded Pullings as first lieutenant of the Surprise, serving as such until the return of that ship to England after her cruise into the Pacific in pursuit of the American frigate Norfolk.
The Surprise returned to England to be sold out of service, Mowett published -with the help of his former shipmates - a book of Poetry he had written about Naval battles and other nautical topics, such as storms and sailing. The only complaint he has about the publishment, was that the publisher got on his nerves very easily. Details of Mowett's later naval career are unknown; he was last encountered as a passenger aboard William Babbington's sloop HMS Tartarus during the Long Year of 1813.